For people without any driving experience
Our beginners' course is structured around you – the customer.
We will make the lessons as interactive as possible by having clearly defined objectives for each lesson. The structure of the course will be based on using coaching methods to bring out the best of you and your driving.
The relaxed atmosphere created will allow you to achieve a quicker learning process.
Enjoying the lesson is important, on every lesson the instructor will encourage your questions to clarify any misunderstandings that you may have. We call this "client centred learning" – helping you to realise your own objectives.
All instructors will do their utmost to arrange lessons in a flexible way, working in with your work/college schedule. You can choose to take 1 hour or 2 hour lessons – but, if you take up the 2 hour option, you will be getting the best value for money and reducing the learning period achieving a quicker test pass.

FREE
hazard perception & theory test training included.

Weekly lessons greatly increase the chance of a
FIRST TIME PASS
.

Our driving lessons are on a
ONE-TO-ONE BASIS
.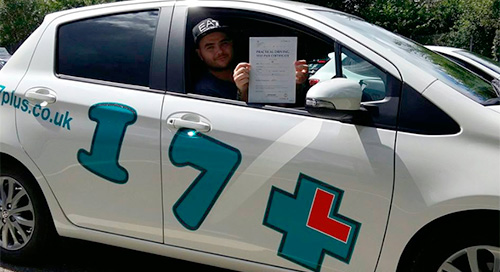 Beginner's Offer*
First 5 hours at £28 each
Compared to our normal rate of
£33.00 per hour
No need to pay in advance to get the discount – simply pay-as-you-go!
*Applies to complete beginners with no driving experience.
Call us on 0800 074 1717