Refresher lessons & courses for part trained
For pupils who have had some training and are almost to test standard; have failed a test in the past; or perhaps have a full licence but haven't driven for a while and need their confidence boosting; or pupils that simply want to update their skills.
17 Plus driving instructors are trained to cope with pupils who have already had some driving. At whatever stage they are at, all pupils will be scheduled on a course to suit their individual requirements.
Short refresher courses can also be arranged for full licence holders who haven't driven for a while. It doesn't take long to master the nerves, eliminate bad habits and build up the confidence to get back onto the road. Whether its nerves or refreshing the road skills they once had – 17 Plus can structure a course to the individual needs of the pupil.
17 Plus can arrange a course for international licence holders to understand and practice the requirements to pass the UK driving test. We offer 60, 90 & 120 minute lessons – working in with your work/college schedule.
Course fees are on a pay-as-you-go basis – no need to block book! Hazard perception and theory test training will be included in each course – FREE of charge. Whatever your situation – we can help.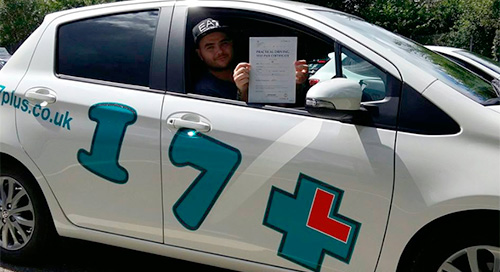 £31.00 per hour – pay-as-you-go!
Call us on 0800 074 1717